Case Study
ProKidney uses StudyTeam™ solutions to reach patients and manage recruitment
Result: Solving enrollment challenges earlier with a site-centric approach
ProKidney is a late-clinical-stage biotech company that is developing a renal autologous cell therapy to treat chronic kidney disease, specifically diabetic kidney disease. ProKidney built a multi-vendor approach to promote patient recruitment and engagement.
Challenge:

Raising patient and physician awareness of trials
ProKidney identified a lack of awareness about clinical trials studying chronic kidney indications, both with the patient audience and the physician audience.
Solution:

Building a Study Website to engage the patient audience
In addition to producing patient-facing materials, launching strategic recruitment campaigns, and leading lunch-and-learns with doctors, ProKidney partnered with OneStudyTeam to build a Study Website, or a clinical trial recruitment website that's optimized to provide the right information to the right patient population.
With the launch of www.proactstudy.com, ProKidney provided a convenient online resource for patients to:
Learn important information about trial eligibility and participation.

Identify the closest research site using a built-in site finder.

Fill out a pre-screener form to determine initial eligibility.
With this approach, ProKidney is creating an optimal patient-centric experience to increase trial enrollment rates.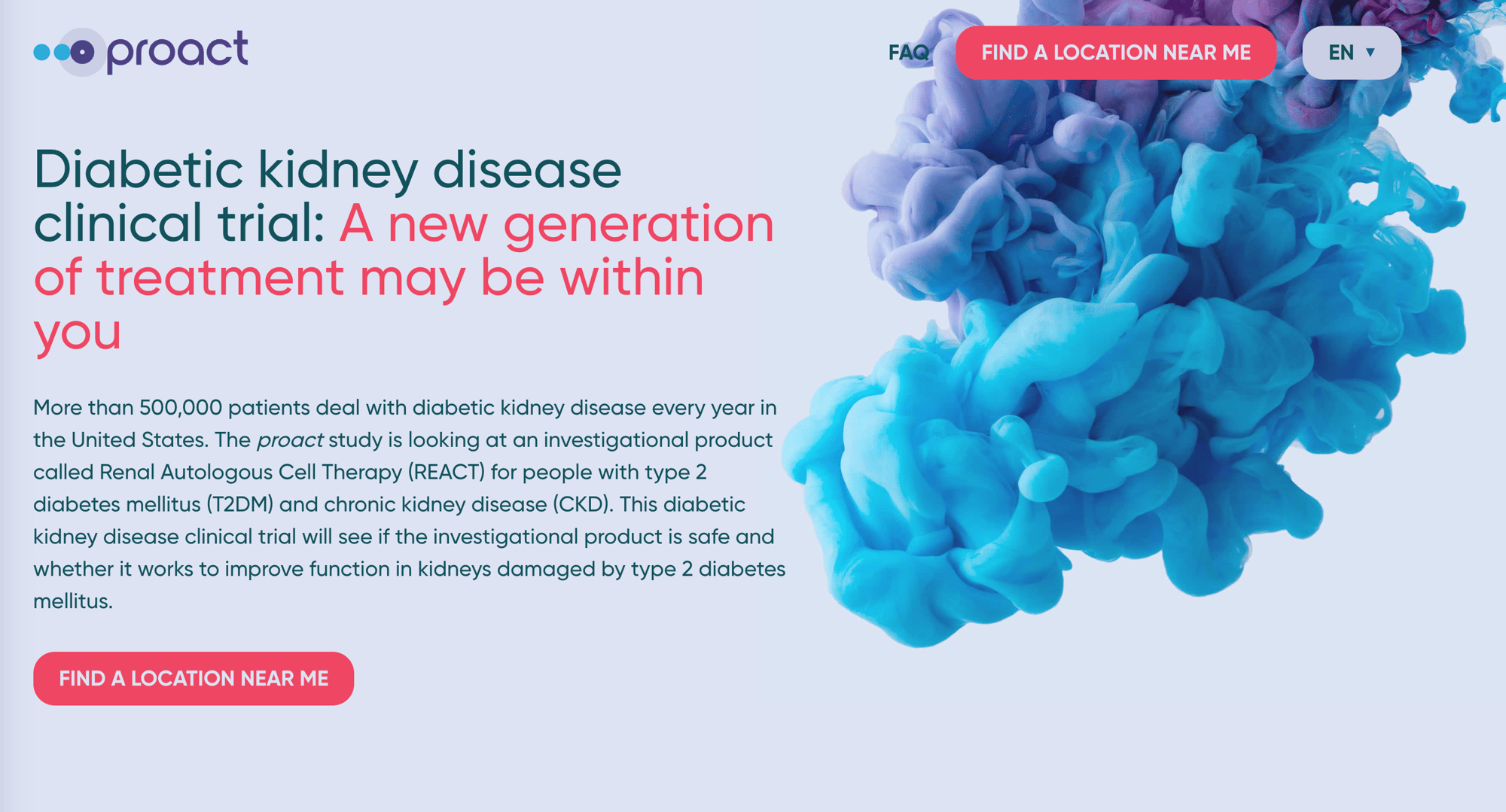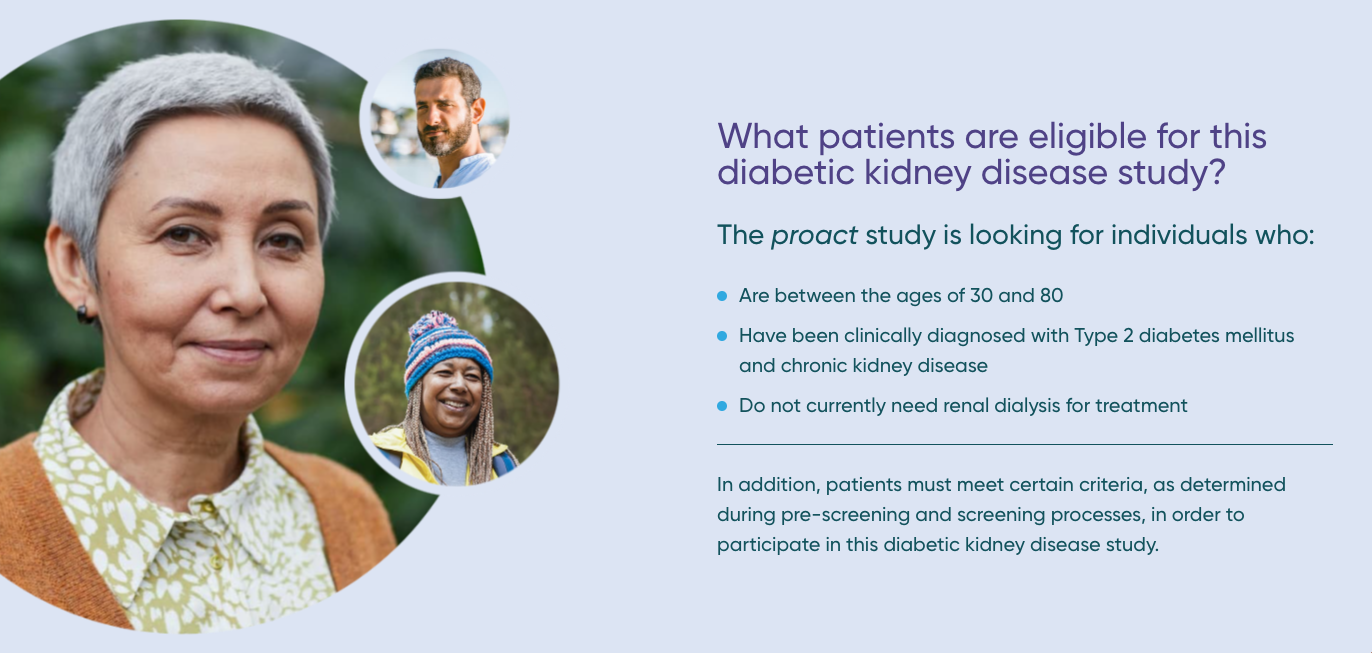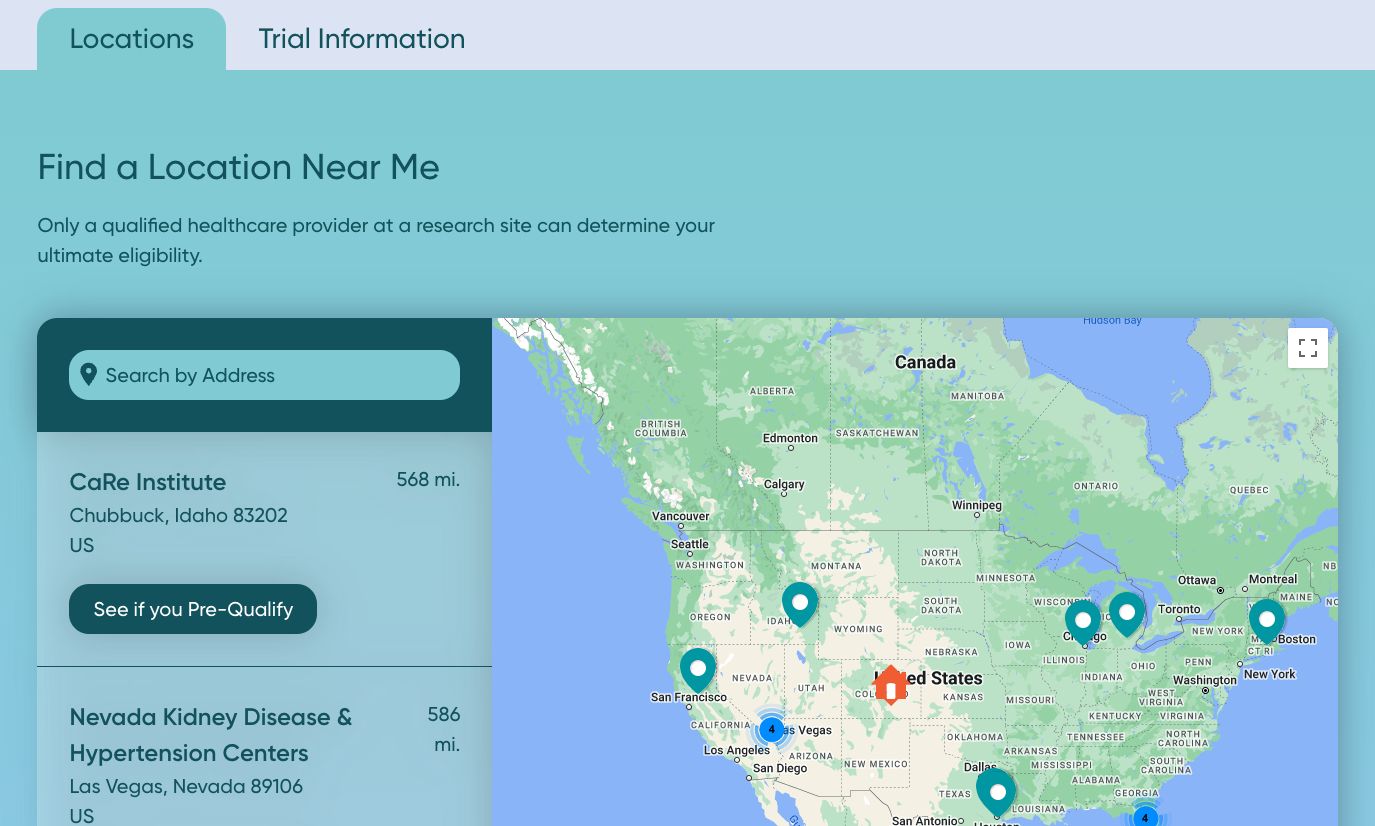 Challenge:
Streamlining patient referrals while reducing site burden
ProKidney's patient recruitment strategy is multi-pronged, involving multiple vendors and recruitment sources. Working with a variety of recruitment partners and platforms risks additional burden for their sites – not only are sites often short-staffed, but they often end up juggling multiple recruitment portals to manage referrals. That's why the need for a central hub to monitor and manage the performance of various recruitment campaigns became clear.

Solution:
Integrating referral vendor databases with StudyTeam's Referral Partner Interface
Rather than asking its sites to log into different recruitment portals, ProKidney set up StudyTeam as the integrated, central platform for receiving patient referrals. With StudyTeam's Referral Partner Interface (RPI), each referral partner's database is connected to the StudyTeam platform used by each clinical trial site.
Referrals go straight to the site-facing platform.
RPI (as well as the Study Website Pre-Screener Form) allows the referral partner to directly route patient information into the system that sites already use and know, where the site team can review the referrals, contact patients, and continue the pre-screening and screening process with no additional burden.
Recruitment metrics are automatically visible in the sponsor-facing platform.
Integration with the StudyTeam platform also provides ProKidney automatic visibility into recruitment campaign health, as well as de-identified pre-screening data entered by each site. On a site level, ProKidney uses StudyTeam to track referral followups, I/E criteria causing pre-screen failures, reasons patients decline to participate, and more actionable insights. With this novel visibility, ProKidney makes informed decisions about their ongoing recruitment and enrollment strategy.
What ProKidney and its sites say about StudyTeam
"[StudyTeam] gives us visibility into the comprehensive recruitment funnel that's often very difficult for sponsors to see. It also gives us earlier visibility into how the recruitment platforms are performing."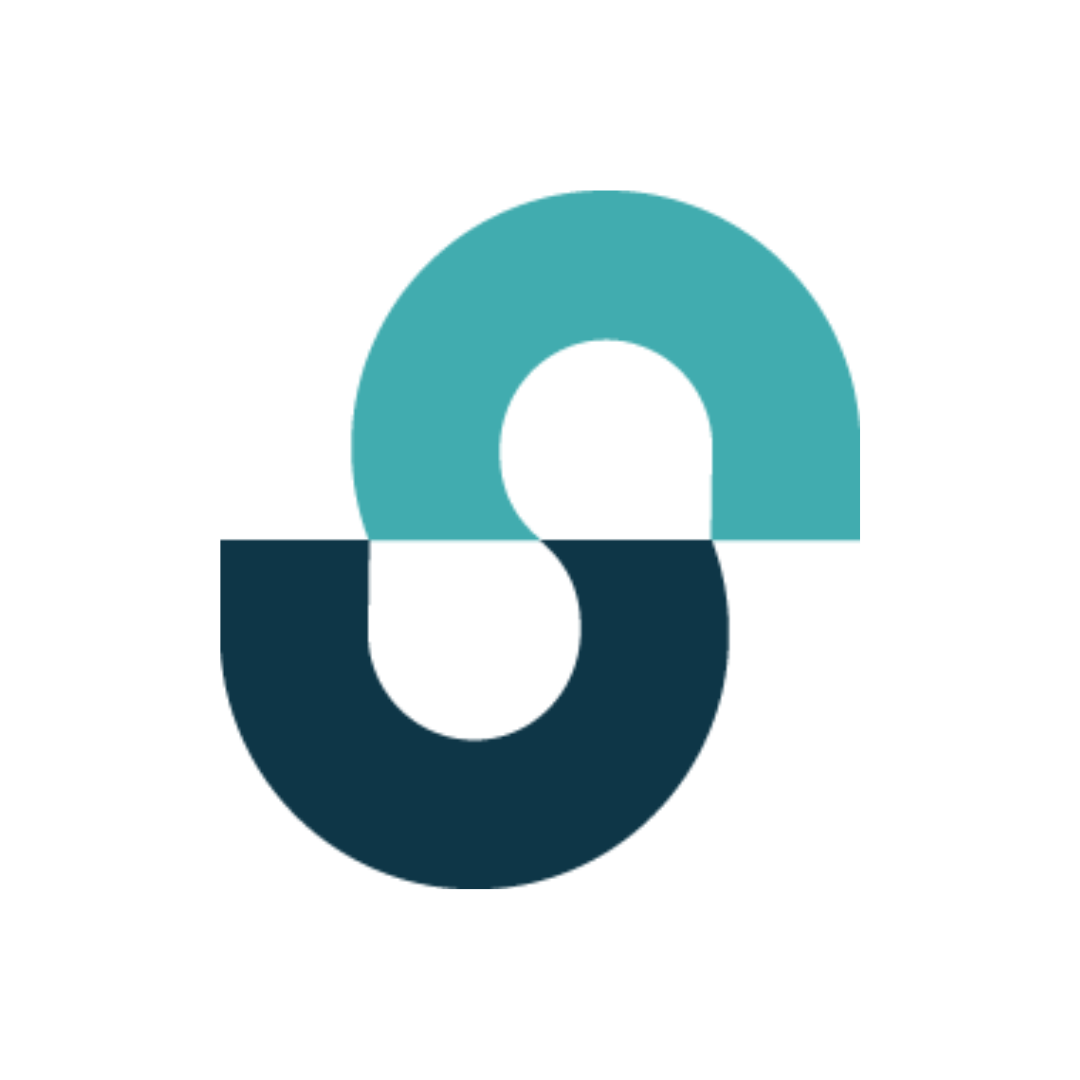 Senior Clinical Project Manager at ProKidney
"StudyTeam is just a lot easier and a lot neater than Excel sheets and paper. It is a system that is easy to refer back to when enrollment is delayed instead of flipping through paper records."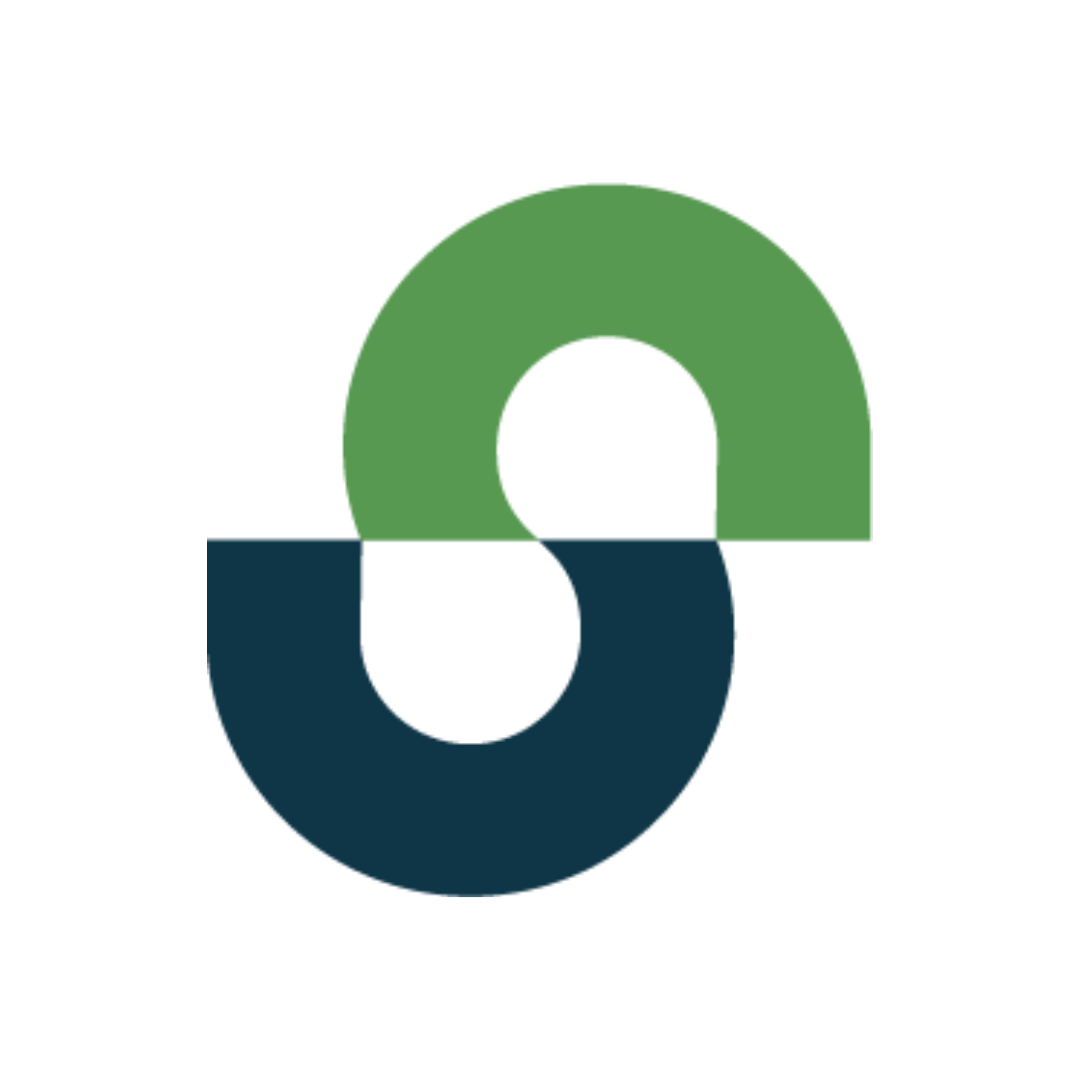 Research Site Coordinator
"Very user friendly and easy to use!"